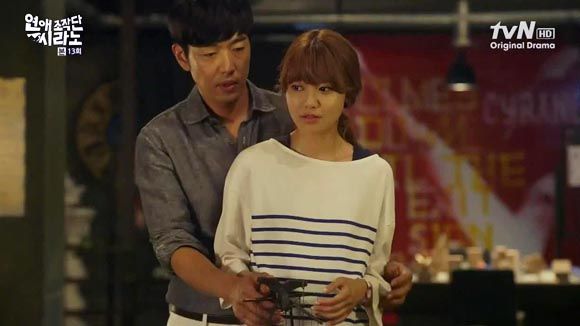 The operation at hand becomes exponentially more difficult after a confession of love throws this ship off course. Adobe Flash Player version 9 or above is required to play this audio clip. Download the latest version here. You also need to have JavaScript enabled in your browser. We flashback to when she had first taken notice of him a year ago, and he had unintentionally been hit by a rogue puck that flew in her direction.
His friendly concern for her had sent her swooning. This is also the same memory that Ho-yeol recalled in the previous episode, and now we replay the scene through her eyes. So the other day, she had left during class in order to find Arang in the theater to tell him then.
But Ho-yeol had walked in after her, and we know the rest. She looks up expectantly when Arang rises from his seat. Se-kyung hides the hurt of the rejection, thanking him instead for the warm, fuzzy feelings and for butterflies in her stomach she felt. He smiles warmly back at her, and they shake hands. On the other side of the door, Byung-hoon and Min-young scuttle away to a nearby stairwell to avoid getting caught. When Min-young says that it was cruel of Arang to dump the girl like that, Byung-hoon corrects her, saying that Arang did her a favor with his rejection.
Later that night at the restaurant, Min-young collapses at the bar, tired and hungry from her grueling day at school. As the team heads out, Moo-jin and Hye-ri exchange silent greetings.
Elsewhere, as Arang daydreams about the times that Se-kyung was seemingly annoyed with him, he thinks to himself: I thought that she hated me. She finally drops the subject when he clams up again. Meanwhile, Ho-yeol and Se-kyung struggle to catch their breaths as they hide in an alleyway.
They both become aware of the close proximity and she quickly pulls her hand away from his. A long minute passes before Ho-yeol gently tries to wipe away her sweat with a handkerchief. He winces slightly with disappointment when she scurries off with an excuse. Moo-jin has been in the vicinity to keep an eye on them. He hops down from his hiding place and offers Ho-yeol a lollipop to lift his spirits. Back at headquarters, Min-young tsks over the irony of an idol star suffering from unrequited love.
So she attempts to ask about his first love again—did he confess his feelings and get rejected too? That strikes a nerve and Byung-hoon snaps back before dismissing her for the day. Taking out his cell phone, he plays with the charm—a Sherlock Holmes figure.
Then a cheery voice calls out behind him: Yi-seul has a bright and outgoing personality and she suddenly takes him by the hand to join the others. He contemplates whether to call her or not for a moment before he decides against it. Little does he know that Min-young has witnessed his moment of indecisiveness, having doubled back to the agency to retrieve her phone. She feels a distinctive wave of emotion but later dismisses it for hunger pangs. Then we see that Seung-pyo is taking his frustrations out on a punching bag at the gym.
With his shirt on. The following morning, Min-young is immediately annoyed when Byung-hoon kicks his feet up in her car when she picks him up outside the agency. He tells her that she should be studying and tosses her prepared school ID card in her direction. Min-young reels when she sees the awkward photo of her younger self wearing glasses.
She asks where he got it from, and he answers: I was shocked too. He asks Ho-yeol what he likes about Se-kyung and gets the answer: Then he jokingly warns Arang not to like his girl. Ooh, why do I get the feeling that his joke may not be far from the truth?
Hmm, does our target like someone else now? And all the while, Byung-hoon observes the scene from a balcony. So she heads to the library and scours the aisles until she stumbles upon an old yearbook. Min-young replies that it is, especially if she started to see that person in a different light. Thankfully, after a few sympathetic words, the interviewer moves on. And in the crowd, Byung-hoon thinks aloud that the entertainment company should thank him for the free press. The PR move achieves the intended effect and a group of fangirls protest outside the school the following morning.
Then she snaps the headphones back. In other words, Arang will soon forget how he feels about her. So she pulls him over to whisper if he owes them money too. But Min-young tells him that borrowing money from loan sharks is a slippery slope, and offers to bring in more customers in order to boost business.
Min-young runs into Arang outside the agency after dinner. She cautiously asks him if Se-kyung is weighing on his mind. His usually sunny disposition fades ever so slightly before he denies it in his typical happy-go-lucky manner. But dare I say, does the boy doth protest too much? She gives an example of a swoon-worthy statement: Then the camera pans over and we see Moo-jin sit up on the roof of the van, having overheard their conversation. He silently watches Hye-ri close up shop at the restaurant.
We get a nice musical interlude when Moo-jin returns to Cyrano a bit later. Then Byung-hoon tucks the broken marionette into a box.
Meanwhile in the restaurant, Seung-pyo rifles through his pictures from his visit to the high school, smiling at the photos of Min-young. Then he picks out a zoomed in photo of the mural in Arrow Theater. So Se-kyung furrows her eyebrows in concern when Min-young deliberately sighs that it looks like Ho-yeol will drop out of school. The lines are enough to prompt Se-kyung to rise from her seat and set off to the teachers lounge where Ho-yeol is already in talks with the principal.
Min-young texts Arang that their target is on their way. On cue, he steps out to the corridor and Arang lets out a sigh. Things continue to go according to plan, and the two students arrive at the theater.
Just then Byung-hoon notices an oddity on the monitor—reporters—and rushes out. Meanwhile, Min-young hurries towards Arrow Theater when she suddenly notices the faded mural on the wall. A voice calls out behind her and she turns around to see a mysterious woman walk towards the wall. At the same time, Arang runs into the theater to warn Ho-yeol that reporters are at school and on their way here. Se-kyung turns to leave too but Arang grabs her by the wrist to face him. Because I think this might be my last chance.
The mysterious woman turns around Kim Jung-hwa and smiles. Min-young watches carefully as Byung-hoon steps forward and recognizes her: